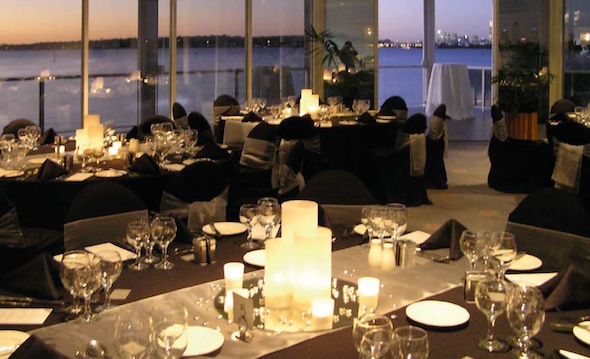 REBarCamp Perth is fast becoming a reality. Today we received word that REIWA are throwing their support behind the event by promoting RE BarCamp in their annual conference brochure. It's fantastic to have the backing of  the peak real estate body in WA.
A new logo has been prepared. It looks great with the flames of the RE BarCamp retained but including the stars of the Southern Cross and a Swan from our famous Swan River here in Perth. The graphic design work was provided by Charlie Gunningham and his team of designers at REIWA.
The original date for RE BarCamp Perth was October 6 but REIWA were forced to change the date of their conference to that date. BarCamp is now planned for Friday, October 7.
Our organising committee is in full swing. Tom Esze mamaged to secure the fantastic upstairs Wardroom at the South of Perth Yacht Club. It's a great location with stunning, uninterrupted views across Melville Water through to Perth city in the North. We refuse to be outdone by Sydney with their fancy Sydney Harbour views!
Thanks to Bill Atkinson, Professionals WA/NT have offered a generous sponsorship of the room hire and bar tab.
Further sponsorship offers have already been received from Thehomepage, Inline Media Biz, RE/MAX, My Desktop and REIWA. As was the case in Sydney we're expecting to have more sponsors than expenses. RE BarCamps are proudly and passionately not-for-profit and brand agnostic so it's great to see businesses getting on board to help make a difference.
Unlike many 'free' events that lure people to a place where they're sold to, RE BarCamps don't tolerate sales messages of any kind. You won't find a naming rights sponsors banner and there are no keynote sales pitch from the main sponsor. In fact all participants are actively encouraged to use the Rule of Two Feet. If someone starts selling or pushing a personal agenda, stand up and walk to another conversation. It's jus that simple.
That gets everyone focussed on supporting one another's success through sharing and contribution.
It's a great recipe that's worked in the US, it worked in Sydney and I know will work here in Perth.
Our newest addition to the organising team is Nicole Lefebvre. Nicky is a sales coordinator for Peard Real Estate and is a gun on Twitter. I'm thinking that Nicky is going to be a big help spreading the RE BarCamp message through social media.
At this stage our organising team is:
Bill Atkinson, Professionals
Janelle Aylmer, Accom Property
Geoff Baldwin, RE/MAX WA
Dean Bradley, Realmark Real Estate
Tom Esze, Tom Esze Auctions
Charlie Gunningham, REIWA
Nicole Lefebvre, Peard Real Estate
David Willis, RE/MAX Real Estate, Bunbury
All of the committee are passionate real estate professionals. All want to see meaningful changes in the industry and all are keen to give of their time and expertise to make RE BarCamp a reality in Perth.